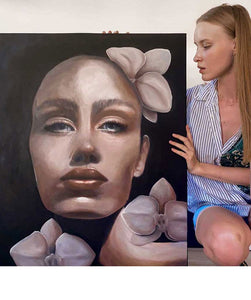 Anna Tsiupa
Ukrainian artist Anna Tsiupa is currently based in Israel. "I was connected to art all my life but I started to take it on seriously during Covid-19, when we were all in lockdown—I took inspiration from the silence and time with my own thoughts," Tsiupa says.

Her work is contemporary, showcasing a variety of styles, textures, layers and light. "My concept is to use minimal amounts of natural colours, but then creating many different shades and layers to achieve volume and depth in my paintings. I work mainly with acrylics and oils, and I try to express my inner world in my paintings."
Currently Tsiupa is working on a variety of women's portraits based on women from all different cultures and nationalities. Her work is currently being exhibited in Nazareth and Jerusalem.