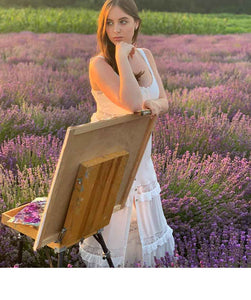 Anna Savvi
Anna Savvi is an experienced artist from Kharkiv, Ukraine. Her path as an artist began at a very early age, starting to work professionally at just nine years old. She was later admitted to a local preparatory art school named after Ilya Repin and in 2021, received a bachelor's degree from the Kharkiv State Academy of Design and Arts. During this time period she was the recipient of many individual awards including the title of Best Student and also graduated with Honours.

She held her first personal exhibition when she was 14 years old, and has since held three more exhibitions. After university, she went on to participate and win a whole host of Ukrainian and international exhibitions and competitions. Notably, she was granted a scholarship from the Ukrainian President Mr. Zelensky in 2021 and a scholarship from Kharkiv's mayor in 2014. She is also the youngest member of the National Union of Artists of Ukraine.
See Anna's video here.